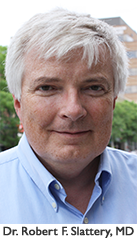 My office is located on the corner of Liberty and 4th Avenue (not 4th street). The entrance is located on the 4th Avenue side.

Look for the green awning which has 120 E.Liberty in white letters and numbers on it. Enter there. The directory on the wall inside will show Dr. Robert F. Slattery, Suite 330. Take the elevator to the 3rd floor.

Go down the hall to the end. Suite 330 is the last office on the right side.